Podcast: Play in new window | Download
Subscribe: iTunes | Android | RSS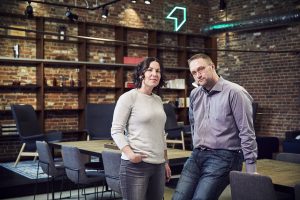 There's good news for all you tech leaders who feel you got thrown into management without much preparation – leadership can be learned. My guests on this episode of SimpleLeadership are Johnathan and Melissa Nightingale, the founders of Raw Signal Group – a company with a simple promise, "We Build Better Bosses." They are also best-selling authors of the book, "How F*cked Up Is Your Management?: An Uncomfortable Conversation About Modern Leadership."
I can't think of two people better suited to talk to about the challenges of tech leadership. Prior to founding Raw Signal Group, Johnathan and Melissa were both tech execs who spent their careers running large parts of companies (product, engineering, data, design, marketing, PR, etc.). It's honestly hard to find a role that one of them has not taken on. Through their work with Raw Signal Group, they've helped thousands of leaders understand their roles, build their skills, and be better bosses. Join us for this great conversation and learn how great leadership can be learned.
Great #leadership can be learned. Listen to this great conversation with @johnath and @Shappy of @RawSignalGroup. #leaders #TechLeadership
Click To Tweet
Outline of This Episode
The same management leadership issues exist across disciplines and industries
There is a strange belief that exists among those who are in tech management roles – they think that leading engineers is somehow different than what other leaders within their organization deal with. It's true that engineers can be a bit unique, but there is much more that can be learned from other leaders in different areas of your organization than you think. Even leaders in entirely different industries have something valuable to offer.
Johnathan and Melissa speak to the issue by pointing out how significantly tech leaders can be helped when they learn to humbly approach others they see doing things well to simply ask for insight into how they do it. Listen to hear how they coach leaders to build cohorts of help within their own organizations, across departments.
Have you identified the leadership skills you want to steal?
When it comes to learning leadership skills, every leader needs to be on the lookout for the things the leaders around them do well. It's one way you can see things in others you admire and develop a list of leadership qualities or skills that you want to improve in yourself. Melissa refers to it as the "leadership skills you want to steal."
But the truth is that you don't really have to steal anything. Most leaders are eager to help others understand the things they do well. But it requires that you have the bravery to approach them to ask for help.
Have you identified the #leadership skills you want to steal? Hear how @johnath and @Shappy of @RawSignalGroup suggest you go about it on this episode. #leaders #TechLeadership
Click To Tweet
There are no natural leaders. You can learn good leadership
We've all heard someone described as a "natural born leader." While we understand what is meant by the phrase, Johnathan and Melissa push back against the notion that some people are born with the skills needed to be leaders and others are not. Even casual observation proves it not to be true. None of us naturally know the critical skill of leading teams, having effective one on ones, conducting effective meetings, or firing someone. If that's the case, then how did those who do those things well get that way?
They learned the skill over time. Melissa and Johnathan developed their company, Raw Signal Group after years of observing the terrible leadership practices being carried out in the tech industry. They felt that not only did they have a responsibility to ensure that their personal leadership was not guilty of the same abuses they saw going on around them, but that they also had an obligation to help solve the problem industry-wide. You'll enjoy hearing their frank perspective on how leadership can be learned, why it's important to grow as a leader, and how anyone can do it.
Leadership is not about good intentions
We've all done it. We misspeak or forget to respond in a way that is sensitive to the diverse people and backgrounds in the room. And when we're told how we hurt someone, we often say, "But that was not my intent." Johnathan says "intent" is something we fall back on as a defense when what we should be doing is accepting the correction, admitting our wrong, and committing to do better next time. When we say we didn't "intend" to do what we did, we are attempting to avoid accountability.
We all have to learn how to be better humans, people who care enough to learn how to communicate with more inclusiveness and more sensitivity toward others. Leaders especially. It's a big part of what makes for a team that gels well and becomes powerfully effective – and it starts with the leader. Learn how you can and should grow in this area, on this episode.
#Leadership is not about good intentions. Discover why from @johnath and @Shappy of @RawSignalGroup on this episode. #leaders #TechLeadership
Click To Tweet
Resources & People Mentioned
Connect with Johnathan and Melissa
Connect With Christian McCarrick and SimpleLeadership
Tweets
There are no natural #leaders. You can learn good l#eadership. Listen to this great conversation with @johnath and @Shappy of @RawSignalGroup. #TechLeadership
Click To Tweet
The same #management and #leadership issues exist across disciplines and industries. Learn to learn from the #leaders around you. Listen to these great tips from @johnath and @Shappy of @RawSignalGroup #TechLeadership Click To Tweet
Transcript Below
Read Full Transcript
Christian McCarrick  
This is simple leadership. Welcome.
We are here to learn from New and seasoned technology leaders who all share a passion for improving the craft of technology management. Let's take a deep dive into management and leadership challenges and best practices specific to Software Engineering and Technology teams.
Do you want more engineering management leadership tactics and information? Subscribe at www.SimpleLeadership.io to receive the latest updates from this podcast.
Hi, I'm your host Christian McCarrick. This is the simple leadership podcast. Welcome back. Good afternoon or good morning, Melissa and Jonathan. There's the two of you on the show today, which is super exciting. I kind of love making the format a little dynamic here. We have to have you on the show. So both of you, welcome.
Johnathan Nightingale  
Thank you.
Melissa Nightingale  
Thank you.
Christian McCarrick  
Absolutely.
So one of the things, and it's pretty prescriptive in a lot of ways,  I just want to kind of Do a brief introduction to introduce you to the audience who's listening on my show. So since there's the two of you, just maybe a high level, brief  background, how the both of you got to where you are today, and then what you are doing today a little bit.
Johnathan Nightingale  
Sure. For my part, I went to school for cognitive science and artificial intelligence. But I did it a long time ago when AI wasn't nearly as cool. And so when I got out of school, I started as a programmer at IBM, and I was not working on AI stuff. I was just working on business integration software. I did that for several years before finding out in 2006 that Mozilla was hiring and I was pretty excited about that. That was a big deal for me. 2006 was sort of a dark time for the internet. But Firefox was a bright light and the idea that I can work on Firefox was really exciting. So I quickly stepped up and started interviewing. I said, "You know, I think I'd be good for this job. But if it's not this job, I'll do any job you have because you're building the future of the internet and I want in."
I was at Mozilla for a long time. That's where I met Melissa. In  variety of engineering roles but eventually as a Manager of engineering, the Director of engineering, finally a Vice President of Engineering and then I closed out my time at Mozilla, as the General Manager of Firefox – Firefox desktop Firefox for Android – and while I was there, we built out iOS as well. Then I left. Mozilla had gotten to be about 1200 people Firefox was half a billion monthly active users but there was also a big startup community in Toronto that I wanted to be a part of.  So I consulted there for a little while before taking a Chief Product officer role at a little company and helping them grow past their Series B. And then in 2017, Melissa and I quit our jobs to build Raw Signal Group, which is where we are today.
Christian McCarrick  
Awesome,
Melissa Nightingale  
Cool Christian, in terms of my background, I went to school and I majored in public communication and minor in computer information systems. This was in the 90s and I graduated in 2001. I knew that I wanted to work at the intersection of communications and marketing and technology and so I moved to Silicon Valley basically two weeks after graduating from my undergrad.
For those of your listeners who know their history, 2001 was a really idiotic time to move to the valley to go get a marketing job, right there were no marketing jobs in the valley at that time, everybody was handing out pink slips like, it was the dawn of " pink slip parties." Most of the money was drying up and it was sort of the height of the .com bust. But my computer information systems minor turned out to be really useful because while there weren't marketing jobs, they certainly were still paying people in California to develop software. And so that's where I started my career and spent about four years waiting out a bad economy and coding in a dark room for basically eight hours a day and then moved into a role as money started flowing back into the valley in 2004, I found opportunities to work at PR agencies sort of at the height of like the web 2.0 bubble right so a lot of the the hype cycles around how we talk about technology, were just beginning to take shape, and around 2007 found out similar to Jonathan that Mozilla was hiring for their very first PR hire, and was really excited about that opportunity.
I went and ran the PR team at Mozilla for a long time and then following a five year stint at Mozilla took a VP marketing role at a company called Edmodo, that was building k 12. ed tech software. And then following working at Edmodo moved across the country, basically to be closer to Jonathan, and took a role at a Toronto based startup called Wattpad that was really sort of growing here and growing both a Toronto presence but also a really global footprint in terms of their user base. And then in 2017, similar to Jonathan, left my startup exec role and founded Rossignol group.
Christian McCarrick  
Awesome. Well, I think that's a great background for the both of you. And there's a couple reasons why, I always like to ask sort of my guests about their background, and one of them is, there's no great single path to get into – "What does success mean? What does Engineering Leadership mean?: And people come from all different backgrounds and I really want to make sure that if I have listeners who are thinking about getting into engineering leadership and management that again, no matter what your background is feel free, like we come from all backgrounds, and you can be successful, and even sometimes more successful from a non traditional background.
Melissa Nightingale  
I think one of the questions we get at Raw Signal Group a lot of the time is from leaders who are asking, like, "Can you do management training? Can you do leadership training just for my engineering leaders?" And for us, we feel like there's a big breakthrough for many leaders when they realize that the management skill set is much more similar across disciplines than it is different across disciplines. We will hear from engineering leaders who feel like, "Okay, I really need to know sort of management and leadership fundamentals just for engineers" And for us, I think our experience is that there's a lot more that those folks have in common with the folks who are trying to lead the sales teams within their organizations, that are trying to lead the marketing teams within their organizations, that are trying to sort of grow the customer success function within their organizations. That they share a lot of the same pain points, but often aren't talking to each other because they assume that it's very different.
Unknown Speaker  
Yeah,
Johnathan Nightingale  
Yeah, it's sort of a beautiful thing in the room when we get a management team together. We're working with like 100 person startup, they've probably got 18, maybe 21 people in their management group, and we'll get them in and, it's often the first time that different parts of the organization – I mean, 100 people, like you can know everybody's name at 100 people, you can know what they worked on and when they were hired – but it's the first time that they've really heard that, "Oh, sales is also struggling with like, how do I do career path thing when the organization is growing really quickly?" Or "Or how do I get my team aligned around the stuff that the business needs us to do even when it's not the stuff that they're most excited about? How do I balance skills development versus just keep your head down and get your work done?" All of those challenges really cut across and so we find it's an eye opening moment for those folks.
Christian McCarrick  
Yeah, and that's a great point for all my listeners as well to understand and we've discussed on some previous episodes in slight detail too that and it's okay not to just get the information from that but as people look for – we talking about mentorship or coaching also look outside of just your engineering org for those people who might be maybe a little bit more advanced either in your org or outside of you org in other disciplines?
Johnathan Nightingale  
You've certainly had guests talk about this before on the pod that the transition from individual contributor to a manager , let's say, in an engineering organization, it's like starting a whole new job, right? We say this all the time that yes, your your engineering skill is going to give you some credibility, some ability to talk to your team, some ability to help mentor them in certain contexts, but it's really a totally different job with a different set of skills and a different scorecard and different measures for success. And we'll have a bunch of people who not along with all that, and so "Yes, totally, that's what I'm feeling right now. That's what I'm struggling with is it's a whole new job." And then we'll turn around and say, Okay, great. And like that person over there, who's a new marketing manager, it's a brand new job for him or for her as well. Right? And they're like, "Well, but engineering management is sort of different. It's a different kind of thing, right? You've got to understand Scrum, you've got understand like estimates and delivery schedules and how to integrate with a roadmap."
Sure and marketing's different too and sales is different too and operations is different, too. But there's a community of practice waiting to happen in your organization where the managers can talk about the thing that makes them the same, right? I mean, I've managed engineers for most of my career and front end engineering is very different from back end engineering. But those people still feel like they can talk to each other.
Melissa Nightingale  
Yeah, I think we have this sort of common expression that it's lonely at the top. The higher you go, the fewer people around that you feel like you can relate to and talk to. And that's really challenging. Leaders get themselves sort of into, they paint themselves into a corner where they feel like other leaders within the organization don't understand their challenges and so the result is that they often do feel very lonely that they are carrying a lot of the organization's stress on their shoulders without a place to sort of talk it through. We really do see a lot of leaders find relief in finding both those sort of peer relationships within industry. But those peer relationships across the org are so, so valuable.
Johnathan Nightingale  
Yeah, Christian will let you get a word in edgewise in a second, but it's one of the things we hear all the time. Like we you know, we run this newsletter every couple weeks where we just talk about management leadership stuff. And one of the things that's really fascinating is we get letters from people saying, "Wow, you're really speaking to the problems that I'm facing in agriculture in Kentucky, right? You're really like this, you singing my song when you're talking about the issues with like, labor organizing in New York." And we're like, we didn't say anything about that.
Unknown Speaker  
We're talking about management and growing tech organizations, but it's all made of people and the skills you need, there are at least 80% the same.
Christian McCarrick  
The thing too  to point out with one of the things Melissa said is, it's getting help from other people. But I think sometimes as leaders and no matter what discipline you're in, you look across, and you have this false sense of, "Oh, they know what they're doing and I'm not and I don't and maybe, maybe I'm a little embarrassed to go ask them something because they clearly know it. And I'm just floundering over here. " When actually if you go and talk to them, they're probably having the same struggles you are and it's good to have that peer support network.
Melissa Nightingale  
We talk about the skills you want to steal, right? If somebody else has a skill within your organization that looks really compelling, or you feel like, "Gosh, I'd really like to know how to do that, or how do they approach that?" It is a vulnerable moment to be able to go over and say, "Hey, you're doing this thing."
But it's also a really lovely moment between colleagues to say, "I see you doing this thing. And I'm curious, can you tell me more about it?" It really is sort of this pure play mentorship moment of, "You're doing this thing with expertise. I want to know more about how you're doing it"
Unknown Speaker  
And
Johnathan Nightingale  
I think the other thing I'd expand on there is that, Christian you're talking about looking across the org at peers and feeling like they've got their shit together. This works up and down the tree too, we talk to a lot of founders and CEOs who are like, "Okay, that's a great course for my managers but nobody ever taught me how to run a one on one, nobody ever taught me how to give good feedback. Like, where's your program, we're all the CEOs can talk about i?" Because they're struggling often with the exact same stuff unless you work in a gigantic Corporation that's got like an executive development program internally in a management development program internally. And unless it's a good one, it's very easy to go pretty deep into your career without  any of this background, I tell the story all the time that when I got promoted to be the VP of Firefox, I had, you know, hundreds of millions of monthly active users, I had 100 to 200 person team at that point. You know, I had a $300 million a year, P&L. And nobody had ever taught me how to run a meeting, right how to set goals really effectively, how to manage change in my organization and keep a diverse team well aligned. I maybe had some basics about interviewing, but not even about strategic hiring and comp conversations. You're learning it all on the go, and I was trying as hard as I could, but, boy, you can teach people this stuff. These are learnable skills. You don't have to guess at it.
Christian McCarrick  
Exactly. So that's a very interesting segue. As I sort of mentioned to you in some of our pre podcast conversations, I like to do a lot of research on my different  guests that I have on. You have a lot of information out there. I totally internet stalked you, I think.
Unknown Speaker  
and learned a lot of good thing
Unknown Speaker  
x course.
Unknown Speaker  
Oh, I didn't, I didn't I didn't find that.
Unknown Speaker  
There's somewhere tucked into page eight, I was neither the fastest nor the slowest, but they are up there on the internet are very internet.
Christian McCarrick  
But part of the thing too, which is we're kind of we've come along for the internet journey at similar times. and our paths are somewhat similar a lot of ways and I was reading this and I was like, "Wow, this is my tribe!" Like the both of you, I've been through a lot of the things I was nodding my head, I was appreciating some of your bluntness and some of the sarcastic humor you have. That's why I mentioned well we could have a conversation for hours, you know, pour Scotch or something. But when at some point, did you look around and just really internally declare that leadership today, especially in technology was just completely FUBAR? Like, was there a realization? Was that something that grew and you over time, where like, "Holy shit, we can't continue like this like, and we have to do something?"
Melissa Nightingale  
I think for both of us, we felt like 2016 things sort of came to a head, and I'll let Jonathan speak for himself. But in terms of sort of my own experience, I felt like the longer I was in technology and managing people, the more I figured out that there was a big gap from the first time I was managing people to my first executive role in terms of education, in terms of preparation. And that was something that meant in a tech context where we talk so much about the value of speed and so much about the value of iteration that I spent a lot more time and a lot more cycles on things that were entirely learnable and where there were models from other industries that certainly could have been applicable and were applicable in a technology context. Like Yes, startup is different in a lot of ways. But there were things that that I felt like I learned the hard way in startup that probably did not have to be as painful as they were. And I think in 2016, particularly for me in terms of context of what was going on in the broader world, there was a lot of discussion happening around tech's awfulness coming to light – and I think particularly Susan Fowler's blog post was with a tipping point, and that was early 2017.
Johnathan Nightingale  
Yeah, I feel like the blog post from Susan Valley was interesting, because when I first read it, it's disgusting to read the way she was treated and it was sort of like, I got to the bottom of like, "Yeah, that's not surprising,. " Right? And that first response that like, I work in this industry, where a person can write that and I can be like, yep. I'm not accepting it. I'm not excusing it or anything but when my first response is like, "I don't doubt for a second that that's true, because that is an unsurprising story from our industry." I had that first reaction, but then I had this second reaction, which is like, "That's bullshit. It can't be that that's a thing that we're blasae about, that people feel unsafe at work, that they feel bullied and harassed at work, like, How can that be something that would just like oh, man, that was the brakes when you're moving fast like and it unlocked a thing for me where Melissa and I have said this before that, when she was at Wattpad when I was at Hubba, we would build these teams and we had this mantra like, i"I's not going to happen on my team, because I'm going to I'm going to train up my managers, right, I'm going to be clear with my people about what's expected to them. I'm going to hold the line on cultures and values that it's not gonna happen on my team." And I just got to this point, and I think Melissa did too, where that was no longer satisfactory, where it wasn't good enough to say, "Yeah, the industry is full of poison, but at least my little corner of it is okay." I think there's virtue in that I think if you've got listeners who are fighting that fight, that's so important. I'm not taking anything away from it. But for me, I looked at it and said, we can do more her, we can have more of an impact and take that conversation out of two startups and into the industry in general, and that's, that's what drove a lot of our writing in the early days as I drove the book, and I think it's what drove us building our company too.
Melissa Nightingale  
Yeah, we love technology. We are internet people, right? We love the web. We love technology and felt like, this is our industry and if our industry is a mess, and we want to stay in this industry, then we got to do something to clean it up.
Unknown Speaker  
Mm hmm. So you have
Christian McCarrick  
So you're running your own consulting firm today and helping people do this. I usually ask people like, what are the major mistakes you've made? But I think in this case, I want to change it up a little bit and ask, you've been coaching and consulting new managers, CEOs for a while now – what are some of the things that you see  over and over, so the mistakes you see like the patterns of mistakes that you walk in?, and you're just like, "I betcha, you know mistake, bingo, we're going to see one, two and three."And sure enough, you see them.
Melissa Nightingale  
Oh my God, so many.
Johnathan Nightingale  
Yeah, and not from a place of dunking on them, like I have a lot of sympathy for how hard it is when it's going so fast and when nobody equipped you to cope with it. I do want leaders and executives even in fast growing organizations to take accountability for it and feel like it's on you if this organization becomes poison. But I have sympathy for the fact that your org can grow faster than you do at first. And so we never go in to dunk on them or to score points off them. But the premise of your question is totally true. There are patterns.
Melissa Nightingale  
Yeah, I mean, in terms of common mistakes that we see at orgs, basically, of every size, but folks who are sort of new to it make this mistake more often, is the sort of expectation of mind reading. It's, I have context around the organization, either because I founded the organization or I'm one of the early employees of the organization, and I expect that other people have that same context. Christian, I think you were flipping through the book, there's a chapter in it called "Obvious to you is not the same as obvious." It's a mistake that we see startup leaders make really frequently is to assume that the things that are in their head that are really clear are in the heads of all the people working for them or with them, and it's one that will bite you. If you can say it out loud you get so much farther, when you can sort of bring other people into the assumptions and you're working assumptions as your as your sort of going through day to day work at a startup.
Johnathan Nightingale  
Yeah, there's another bucket there too, which is that startups are – and this is true of non startup organizations, startups, just a lot of who we talked to, but – so much of building a business is starting from a blank piece of paper. It's saying, "What are we here to do? How are we different from other people in the space? What's the problem we're trying to solve? How do we get customers to care about us?" Like, there's so much where the there was no answer and so we had to make one up. And in most of building a business, that's a true and righteous thing, right. What makes you different from other people is it's not a question anybody else can answer for you. But what happens, partly because you building every other part of the business from scratch, and partly because often the founders have never gotten their own education on this stuff, is that the structure of the organization, the tempo we have for how we expect work to be delivered, the way that we approach hiring, the kind of culture we create, are also starting from a blank piece of paper. They're not informed by what other companies have done or not done or if they arts, it's the worst. It's like, "Oh, I read that Netflix culture deck and we're also going to be a professional sports team and fire people every 10 minutes." Like, you can do these things where you just end up either inventing it from whole cloth and making a bunch of mistakes that you could have avoided with some study of history, or trying to copy somebody else's culture. The danger of those culture decks is that their marketing documents, right, their job is to assist recruiting a particular kind of talent. They are somebody else's highlight reel. You're seeing a perfectly composed – and often beautifully visually designed and type set – story about what it is to work in a company. And that's not the ground truth for every employee in that company. But you can't see that. It's like, it's like looking at somebody else's Instagram. You know that their Instagram is full of like, hyper polished, perfected images of their life. It would be a mistake, and there's like a whole cottage industry about reminding people, it's a mistake to view that as real life. But when we're building a business, it's so tempting to be like, "Well, they've got it figured out, let's just do what they do." And it blows up over and over again.
Christian McCarrick  
That's an interesting point. And one of the reasons I enjoy doing this podcast is it's sort of the grass isn't always greener too. right. You know, you talk about that Instagram highlight reel. And I gave a talk at the end of last year, and I talked about, listen, what you see of people when they're on stage, you're like, "Oh, my gosh, this is amazing. Like, they're so awesome. They're perfect." But it took them vomiting in the bathroom before that. It took, you know, sleepless night, and, you know,  hours and hours of shaking, giving presentations to come across that way. So what you see is like hours and hours of work that goes into being that – and you can certainly do that, too if that's something you want to prioritize, right. As a leader too, is it sadistic to want to really kind of like that other teams are all screwed up too? I don't know, maybe it's not that but it makes me feel better that like, as you mentioned, I'm not the only one going crazy. Lots of people are having these struggles and it's good to be reminded of that once in a while that like I'm not the only one.
Johnathan Nightingale  
One of the things we talked about when we when we've got teams managers in here, they're sort of learning what their new job is, obviously, one of the things we have to talk about is firing. And when Melissa and I are talking to a group of people about that, we always ask, "How many of you have had to fire someone?" and two hands in a room of 20 go up, because a lot of managers, it's the thing they're really afraid of/ They're hoping they don't have to do it. They're hoping HR does it before them. They're hoping they can transfer the person without doing it, anything to get out of sitting in that room and ending someone's employment. One of the things we do in that moment is we talked about how the first time I fired someone, I went out and threw up in the parking lot. Melissa and I only found out while doing content development for our programs that that she had basically the exact same experience.
Unknown Speaker  
Yeah,
Melissa Nightingale  
Yeah, I threw up in the women's washroom is the first time I fired someody.
Johnathan Nightingale  
Iit's not because that is the job of a manager. It's not that the correct way to fire someone is definitely to vomit afterwards. But it's like, it's important to acknowledge that this stuff is very hard and in the moment where you're firing someone, it's not about you. It's about the person who no longer has a job. How can you handle that process in a way that preserves their dignity and integrity and helps them understand what's coming next. But in a room full of managers, it's worth saying like, This is hard., and anybody who tells you that they've always had a disciplined and clean and strategic approach to this stuff  – I just don't trust that it's tough stuff.
Melissa Nightingale  
Yeah, one of the things that we come back to pretty regularly as a touchstone for Raw Signal Group and the work that we do here is "No natural leaders," right? No one's born knowing how to do this stuff. So somewhere between birth and your first management job and your first executive role, you figure some things out along the way, which means it's learnable And so for leaders coming into our programs I think one of the things that really helps is that we didn't feel like we knew how to do a lot of this when we were first starting out, and it is stuff where you can learn it and you can get better.
Unknown Speaker  
Mm hmm.
Christian McCarrick  
And hopefully with leaving not quite a large you know, stream of dead kittens along the way right in which is hopefully avoidable, but not always.
Johnathan Nightingale  
Yeah, yeah. That's it. I think that's a big piece of it, you know, how much of this can we actually sidestep with training? How much of this like Raw Signal Group shouldn't exist if the only way to learn how to fire someone is to do it terribly eight times before you figure it out. Like, our whole point is, can we equip you with some of these skills ahead of time and, and we believe, obviously,  that we can, that it's a thing you can learn.
Christian McCarrick  
I totally support companies like yours doing that, like wholeheartedly and I support my, my current managers, my future managers and people that are just thinking about getting into management or leadership today do that, because, for me, it's that virtuous cycle, right? So if more people get more aware of learning then I might actually be able to hire people that have actually had the skills that weren't learned. I mean, everyone's gonna have on the battlefield type of skills right on the job, you're gonna have to work through stuff, but the more we can, as you mentioned previously, learn from others who have made those mistakes to not repeat the mistakes then that's better for us and the whole industry.
Johnathan Nightingale  
Absolutely.
Christian McCarrick  
Most of my listeners here are, you know, getting into managers, new managers or in some cases have been managed for a while, but like everyone hey there's still things we can learn. Focusing on the kind of the new manager role or someone taking over a new team or going to new company, what do you think is the most important thing for a manager coming in to that role to focus on, say the first 90 days that you've seen that maybe just hands down, it has the most impact?
Johnathan Nightingale  
I wonder if I have the same answer?
Melissa Nightingale  
Yeah, I mean, I would say if you've got 90 days to have impact, the most important thing you can do is start having your one on ones on a regular basis. Especially if you're you're sort of leading a new team, the trust that gets established when you're having regular points of contact with your team, the information that starts flowing bi-directionally right, that from the top down, and from the bottom up, you end up with a much better picture of the problems that you're trying to solve. Not only sort of the strategic problems that you're trying to solve, but also from a human perspective, right. Sometimes when you're managing a new team or you're stepping into management of a team that was inherited right, the team existed before you were managing that team. You may think you've got a clear idea of sort of what you're walking into, but I would say one on ones are really good way to make sure that you've got a pulse of the organization and the team within that organization.
Johnathan Nightingale  
Well, I definitely agree with that. Well, so I think I think the most important thing to do in the first 90 days is definitely to have those one on ones it correlates with everything good about organizations. I think probably the most important question to answer for yourself is "What is my team here to do?" And the reason I would lean on that is that you know, Christian, when you talk about the listeners to the podcast are getting into management or maybe you've been in it for a while, I would say that a lot of people when they're finding their management presence, when they're finding their style and developing it and deepening their craft, a thing happens, where some portion of them, I think in engineering probably 60 to 70% of them, start to focus a lot on the practices of management. One on ones, holding space for my team to ask hard questions, mentoring, working with them on problems, doing career pathing – and they can lose the plot on the fact that your team is here to do a thing. And I was one of these. So I'm not coming from a judging place. People ask all the time, "Why does the book sound angry?" The book's not angry at you. The book is angry at us. This thing where you're sitting and having these deep searching conversations with your team but you don't have a clear idea about like, "Why are there eight people on payroll? What does success look like for your team"? I've seen more managers fall into that trap. I've seen directors with big organizations have to be fired because their team loved them but the rest of the organization refused to work with that team anymore because they were so caught up in the conferences they wanted to go to, and the new techniques they wanted to try, and the refactoring they wanted to do, that they weren't doing anything for the business, and I'm not trying to be cold and harshly capitalist here, I'm saying that like it does your team no favors over the long run, to indulge all of that stuff to the exclusion of doing work.  And that may be obvious to some people but I will say like, I definitely did it. I definitely had a team where I cared a lot about my relationship with them as a manager, I cared a lot that they liked me as a boss. And the result was that when I was hearing stuff from my own superiors, or from other part of the org, about where my team wasn't pulling their weight, I shielded them all from it, because I didn't want to jeopardize the relationship, because I didn't want to be the bearer of that criticism, and it made my team much less effective and then I was a much less effective leader. It took me a while to wake up to the fact that I wasn't helping my team in that moment.
Christian McCarrick  
That's a good point that a lot of people need to understand. What's the context of your team? What's the business driver behind it? Your company is in existence to provide value to its users. Right? And who are those users? How is your team ultimately providing its piece of that value to the users?
Johnathan Nightingale  
Yeah, yeah. And I'd say, you know, we joke about it with managers like, I think management is a is a real first class job. I think it's nothing to be ashamed of, I think it's a fine profession to pursue. But we joke about the fact that like, I know what your engineers are here for, right? They write software. They can write the right software, the wrong software, but I am confident that they're earning their paycheck. I'm very curious about whether you're earning yours, right? Because you're not writing any software for me, you're not even writing any marketing copy for me, right? You're not doing the individual trades, and many of them are many of them are day shifting and night shifting, but at least in theory, a manager is not doing that work, so help me understand why we're paying you. We can pay another engineer sometimes, depending on your compensation strategy we could pay two or three engineers for what we're paying a manager or a director. So why are you here? When we say it, some of them get this look of terror because this is the thing they've been worrying about that someone would figure out that like, this is the sham job and we try to discharge that tension? It's okay, there's an answer. The answer is that eight brilliant engineers, working in the same office, in the context of a business will generate so many incredible ideas and so many adventures and explore so many different solutions to problems, that you will only probably get three or four engineers with a forward motion out of them. It's not because they're bad or lazy, or any of that it's the opposite. It's that they've got such creative energy, that they will go in too many directions at once. Right, your job is not to smack them or to take away their creativity or any of that nonsense, but your job is to align them and motivate them and help them connect their work to the business and connect their creativity to the hard problems we're trying to solve for our customers or our nonprofit clients or whatever the context is. That's what gets you paid, right? If you can turn eight engineers of payroll into eight engineers of output, that's a miracle that's never happened spontaneously in the history of engineering. It's worth paying you for that. But don't take your eye off the prize, that's your job. What is your team here to do? And are you doing your job of making them more effective at it?
Christian McCarrick  
And going back to your previous point, the more effective that the rest of the organization also views your team, the more leeway as a manager you have in allowing them to do things like go to conferences, and whatever the things that they think are important to them, you know, work half a day on Fridays, or do hackathons all the time. Because if you're producing, you're bringing that value, the rest of the org is sort of like, "Hey, this team is a high functioning team, they're producing, they're valuable, they seem cohesive, let's let them do what they want." Right. So it's another good aspect for that.
Johnathan Nightingale  
In the early days of my time at Mozilla, and Melissa's time, it was all as well, Melissa was really a standout leader in her organization because she was running a piece of the marketing organization, but she was running a piece of the marketing organization that the engineers would not engage very much with the concept of marketing, right, who are who are pretty new to it and could have used some more education on it – we knew what Melissa's team did.
Melissa Nightingale  
It was a little bit unfair because I used to write software, right. So like, if you got a marketing leader who used to do engineering work, it's a little bit of a hack, because you tend to be able to shake hands and talk to those people and understand the value of each other's work a lot more easily.
Johnathan Nightingale  
Yeah, I think in general, a lot of startups that are engineering led, and Mozilla wasn't a startup but function very much like an engineering lead startup, really diminish the work of marketing teams and other teams and some of that is about just one function, not understanding another function and a lot of it is about misogyny and shitty behavior and needs to be stamped out. But at the core, there's a thing that you said, that really resonated for me, which is that when the rest of the organization can see that you're driving, that your team is an effective team, that it's doing good work, things get so much easier for you, as a manager, you start solving higher quality problems, like "How do we find new opportunities for the people on my team that are growing so quickly? And we're being asked to do more work because we're effective at it and how do we scale to meet those challenges?" Those are much better problems to solve, then why do we need a budget for this team at all?
Melissa Nightingale  
But I'd add, especially if you've got folks who are listening who are newer in their management careers, like one of the most amazing things you can do for yourself and for your organization is if you've got areas of the business that you don't understand, or even ones where you're inclined to think you could fire that team and not miss them, those are great opportunities to go – one say hello, and two – get yourself educated, go learn what those folks do for the business because either you're totally right, and they don't do anything core to the business…
Johnathan Nightingale  
And you are the first genius to ever noticed that.
Unknown Speaker  
sure
Melissa Nightingale  
Sure, possibly, or you've got a massive gap in how you think about your business. And chances are, I would say it's probably the latter. And what an amazing gift for yourself as a leader to get rounded out and get educated on it. It will make it so much easier for you to not only represent the concerns and the sort of strategic objectives of the business as a whole, but also make it so much easier for your team to work with that team because you know, the areas of interlock, you've got clarity around, this is how we plug in, yes, like, I'm on the engineering team and that person's leaving finance and we don't have a whole lot of time when we're in the same meetings at the same time, but there are areas where we're going to need to work together and we're going to need to think about each other's sort of functional areas. And if we've got an understanding of what that means, then when I encounter like, oh, we're we're sort of shifting over to AWS, and it has the following impact for a budget, I know how to go find you and have that conversation before I signed the contract.
Johnathan Nightingale  
Yeah, you asked about traps of startups in general, I would say that the number one flag of an executive who's who's thinking too Junior, is when they're proud that their team works the hardest, or proud that their team hits their goals even when everybody else doesn't. Aat any management level, really, but especially as a as an executive in the organization, iIf you're patting yourself on the back for being part of a failing management team, because you feel like at least you're the standout on that team, you've got to ask yourself some hard questions about- to Melissa's point – where your gaps in comprehension are.
Melissa Nightingale  
Yeah, one of the things we say to leaders, particularly startup leaders is that allthe interesting work within your organization is going to happen at the intersection of more than one team. And so if you're spending all of your time, focused sort of downward on your own individual team, and none of your time looking across or looking up, you're probably missing really important things that you need to do your job well.
Christian McCarrick  
Right. It's not about optimizing your team, it's about optimizing the score for the entire organization, right. That's how you're going to have success, right, and sometimes have to sub optimize teams, just like systems, in order to optimize the whole,
Melissa Nightingale  
It's so hard to know that the first time you get promoted, especially if you were a peer and now you're a boss, like so much of your identity is in relation to the people on your team and not across the org. And so I think until someone actually sort of shakes you and says thay, it's one of those things that like, yes, you can sort of say it is true, but you don't really live it until you sort of pick your head up and understand the importance of it.
Christian McCarrick  
True. So you've published a book you've referenced it a couple of times in our conversation, it's called, "How fucked up is your management? An uncomfortable conversation about modern management." And for my listeners, some of the chapters are,"Why it's a mistake to hire superheroes," "Unlimited vacation and other forms of guilt management," and "Is it worth your time to be excellent?"
I'll post this on our show notes, on SimpleLeadership.io and you can look at this. It's on Amazon, also, but I want to talk about one of the chapters here. You talk about "Leadership is not about your good intentions." So what does that mean for these listeners? Because I think we hear a lot about oh, I had good intentions – and that could be about leadership, it could be about diversity and inclusion , it could be about lots of things. But for you, how did you define that when it was that important?
Johnathan Nightingale  
Oh, yeah. Well, this one might make me controversial. I don't know. There's a saying there's a cultural touchstone that a lot of companies have where they say, you know, assume best intent. And we had it for a while there was a there was a leader at Mozilla who espoused it and I thought it was a pretty good idea, and I don't, I don't. And I get why people adopt it. They want to anticipate that like, conflict about the substance of a disagreement is ok, but like, don't assume that your colleagues are out to hurt you, don't assume that this was said in malice when I might have been said in ignorance. Okay, fine. I think if you want to have a value around, don't assume something was in malice when it could have been ignorance, that's okay. But intent – intent is a funny word. Intent is is something that we fall back on as a defense, right? You say something that's, racist, or that's ableist or whatever, and somebody calls you out on it and you say, "Oh, come on, that's not what I intended. You know, that's not what I intended." And I think it's a way to avoid accountability. Right? I think we're ll learning I'm certainly learning, how to be a better human on this, how to communicate in ways that that are – more inclusive, but more generally, like just how to understand how much of the way we do business is baked into a bunch of assumptions that everybody looks like me, right that everybody's going to be a straight, white, English-speaking non-immigrant guy. And I find that in that context, anytime I feel like saying, "Oh, that wasn't my intent," I'm mostly hurt that someone called me out on something, and I want a way to save face, I want a way to, to remind everyone that I'm not a bad person. And it would be so much more productive every time that happens for me or for any leader there to just be like, "Hmm, yep, screw that up. "That's it. Not like I need to crawl into a cave and never come out again. "Yeah, that's a good point. I did not notice. It's lazy language that I said that that way or that I didn't invite you to that thing, or whatever it is. That was my own failing, and I'm going to do better." I don't think that's such a hard thing. But people feel like it's a much deeper attack and they use this intent based language a lot. And, to me, what I want to get into leaders' heads is that there's almost no case I can think of with that should be the way you open your response to someone calling you on something.
Christian McCarrick  
We talked about that sometimes to me as an example. I didn't mean to step on your toes and break it, but I broke it, and the damage is done. So, you know, we need to deal with that in a way that helps us to move forward and, you know, damage is done. So how do we own up to that and make sure we find ways to make sure it doesn't happen again.
Johnathan Nightingale  
I'll add one thing and then I'll shut up, particularly any listeners, you've got of your podcast who are like me – straight white male engineers coming up in tech leadership –  I will say that like, my own experiences, one of those is that "I'm sorry, I fucked up. Thank you for calling it out. I'm gonna try to do better." That is a skill. People are like, "Why can't you just say sorry?", it's just so like, just don't fight the accusation. Just say, "Okay, I got it" That takes practice. It is uncomfortable to be challenged that way and it is not something that I got a lot of exposure to coming up, right? Because most of the systems were built for me. That takes practice, but that practice is worth doing. And like, if "intent" is the word that helps you hear it, then great, but that practice is important.
Melissa Nightingale  
The only other thing that I'd add is that we, as leaders, I think, get really accustomed to the idea that in many cases, effort isn't sufficient, right? That as a leader of a team of people you can say, "I tried really hard, but missed," once, maybe twice, but but most of the measurement of your success within the organization is like,"Did you do the thing that you said you were going to do?" Not, "Did you intend to do it? But did you actually do it?" And I think for many aspects of leadership, that's what you're looking for. It's not the effort, but the outcome. And I think it's totally right that if you are held to higher account within your organization, if you have that outsized responsibility of leadership, if you have that outsized visibility and impact of leadership, then surely what should extend to your behavior that you are  holding yourself to account for not only what you intended, but the outcome.
Johnathan Nightingale  
And what a great opportunity to model that for the rest of your team too.
Christian McCarrick  
Yeah, exactly. As I was looking through some of the posts that you have on your blog, I don't think I've ever had a discussion topic on the podcast where we talked about family planning, returning to work after maternity leave. And, you know, I think this is a topic that clearly if it hasn't been discussed on my show, it needs more attention needs more work, and especially if you want to support more women and balanced families, you know, in technology and the fields that we're in, and not just tech, I think, in general, but you know, especially in tech for the listeners of this podcast, Melissa, what are the things that you know, is not to go through your whole blog post, but how can we bring more to this conversation? How can we as managers and as leaders support this moving forward in organizations?
Melissa Nightingale  
Christian, I love that question. It clearly touched a nerve at the time that I was writing those posts. I wrote them, in part because I felt like the conversation wasn't happening. It was happening sort of in individual one to one context, but there wasn't a lot out there when I was trying to navigate my maternity leave, while working as an executive at a startup, it just felt almost impossible and short of looking for folks I knew who had been through exactly the same thing, it was really hard to find information. One of the things that's neat is that that series of posts around family planning, around mat leave, around parenting in a startup, continue to be ones that people really respond to, right. I think folks in very similar situations, say, "I was looking for anything at all that I could grab on to, I'm the only or first parent in my startup, and no one else seems to understand what that's like." They continue to be ones where I get notes from from parents saying, "Thank you for writing it." One of the things that's happened since I originally wrote those posts is that a group in Toronto actually put out something called "The Parenting Playbook," and it's a really detailed guide for startups around how to incorporate more parent friendly policies into their workplace, and how to help parents not only, sort of in terms of comforting and supporting them when they're taking leave, but also how to reintigrate them back into a fast moving environment when they come back from leave. And so if you've got folks who are trying to either navigate that themselves or navigate that for their teams or get educated so that they're sort of trained up before they need to know that information, "The Parenting Playbook" is fabulous, fabulous, fabulous, and a wonderful resource and I wish it had existed years ago, but it does now.
Christian McCarrick  
Okay, so for that,  I'll put it in the show notes so that people can find that online as well. And I will certainly, if no one to ask about that, too. I will certainly try to promote that as well. So thank you for that piece of information. And, you know, this probably warrants a whole nother episode, which I might look into doing in the future.
Really quick: Give me an elevator pitch for Raw Signal ? Your tagline is, "We build better bosses." So give me the 90 second pitch, like why and how you can help our managers and tech leaders out there today.
Johnathan Nightingale  
90 seconds. Let's see. I think we can do it faster than that, because we've already had 45 minutes of everyone's ears. "We build better bosses." We chose those words on purpose because bosses come in a lot of different forms, because you're never done. "Better" is our goal not best. And we "build" because this is loanable. We do this thing on some of our management programs where we start by asking a set of questions like, "Would you agree that you know how to run an effective meeting? Do you know what a one on one is for? Do you know how to give hard feedback?" And for most of the people coming into our program? The answer is, "No." The answer is, " don't know any of that stuff. Because I've never been taught." In fact, when we interview our participants before they start, 85% of them have never had any prior management training at all. And that's true at the executive level. And that's true at the entry level team lead. You can get better at this. You don't have to work with us if you don't want to, all I would say is if you're in a context where you're like, "Yeah, I believe I want to get better at this!" Great. Find people who have actually worked in the field. The number one reason training fails is that it's not relevant, and a lot of training dollars disappear into stuff that people can never apply. But when you find people who understand your business and can actually speak to you at a level that's useful, you can get so much better at this and your organization just it's a transformative moment. For us, it often comes in crisis, we get people calling because they just got Culture Amp scores that were a disaster, or because they just had their third person quit in two weeks.
Melissa Nightingale  
Or because they just raised their "B" and they're about to triple in size and that feels really daunting because. "we're 40 people in the rocky and I don't know what that's going to feel like at the end of 2019. "Those calls… we know because we've been there.
Johnathan Nightingale  
Yeah, I think that's our pitching a nutshell.
Christian McCarrick  
Awesome. And something I asked all of my guests on the show. We've mentioned a few you have your book, you mentioned that family planning guide and going back to work, Melissa, any other recommendations, books, videos, etc, that you would recommend to managers trying to level up a bit out there?
Melissa Nightingale  
Twice a month we can be in your inbox. We have a newsletter about management and leadership and in one of my favorite moments, my mom actually forwarded me my own newsletter, and was like, "Hey, this is a really great newsletter, you should subscribe." And I was like, "Mom, like, that's our newsletter!" And so I feel like you know, my mom is not a tech person. But in terms of ringing endorsement, having your own parent forward you your own newsletter and say, "This is great." You know, tell your listeners, my mom thinks it's great.
Johnathan Nightingale  
And in terms of other readings and books around the world, we're huge fans of everything Ijeoma Oluo writes and she's got a book called, "So you want to talk about race?" which is quite helpful if you're sort of engaging with those topics for the first time . If the intent conversation set off your radar and you're like, how do I get better at that? Ijeoma' s book is a good one.
Melissa Nightingale  
We both really enjoyed Priya Parker's "The art of gathering," in part because I think it's a non tech take. Like Priya works with startups but it's a lot around how you get people together and build intention into the sort of advanced planning before they're in the room and what that's going to feel like. And I think for many startups we're doing, we're doing a lot of f sights, we're doing a lot of all hands, we're doing a lot of team meetings and I think any leader who's sort of facing down either the first one or the first one that needs to go really well would benefit from reading that.
Christian McCarrick  
Awesome. What are the best ways to contact you to read your blogs, to contact you for you know, helping their org, you know, and if you can spell anything out for the listeners to, we'll put them in the show notes, but what's the best way to contact you?
Johnathan Nightingale  
We're both Twitter people on because we like arguing with strangers more than arguing with friends. otherwise, we'd be on Facebook. But you can find us on Twitter. I'm @Johnath,
Unknown Speaker  
and a th
Melissa Nightingale  
I'm @Shappy.
Unknown Speaker  
y.
Johnathan Nightingale  
And then if you want to find our website or get in touch with us in a professional capacity, we're RawSignal.ca – we're in Canada so your.com habit will get you somewhere else. I don't know where that gets you. RawSignal.ca gets you to us.
Christian McCarrick  
Melissa, Jonathan, it's been a real pleasure having this conversation with you today. Thank you very much for your time and you know, have a great rest of your day and the rest of your week.