Podcast: Play in new window | Download
Subscribe: iTunes | Android | RSS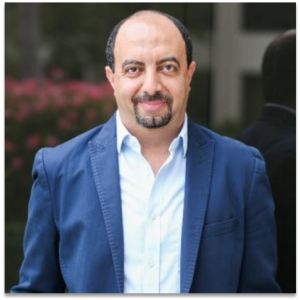 Today's guest—Emad Georgy—is passionate about technology leadership. He's a CTO Consultant and the Founder and CTO of Georgy Technology Leadership. Emad has been in the tech industry for over 25 years. His hybrid approach to technology management—focusing on both the practical and cultural elements of leadership—makes Emad a trusted and valued partner helping both domestic startups and global enterprises scale and grow.
In this episode of Simple Leadership, we chat about what cultivating leaders looks like. Sometimes, it involves making difficult decisions for your team. You must also embrace your values and lead your team by example. Listen to learn some steps to help you grow and mature as an individual and as a leader.
In this episode of Simple #Leadership, Emad Georgy joins me to share leadership traits those in technology need to possess. Check out this episode for more info! #leaders #technology #CrisisManagement #PersonalDevelopment
Click To Tweet
Outline of This Episode
What is the concept of leadership debt?
According to Emad, if tech leaders really want to solve the root cause of technical debt, they have to start talking about leadership debt. It's the concept that the decisions you make as a leader results in hidden costs that build over time.
He points out that "It's our responsibility as technologists to bring [those decisions] to the surface, make [them] transparent, hold them and go, "Are we making decisions that enable the durability of the company and/or architecture?".
You don't wake up one morning and decide to rewrite your whole platform or application—the decision is based on little decisions and mistakes that occur over time. Having knowledge of how leadership debt works helps you make better decisions along the way.
Technology leadership development begins with these traits
Emad points out a key trait: embracing the concept of ownership. A leader "Must have a collective sense of responsibility—not just about his or her actions—but about the actions of their team and the organization". It's about leading by example.
You need to be problem-solvers, not problem-reporters. Emad has learned that pointing fingers only serves to create dissension among your team. It isn't about who's at fault, it's about how you got there. So when something goes wrong, you step up and take ownership—then help your team find and fix the problem.
Emad points out that as the leader, you get to manage the company culture. He defines culture as "the stories you tell every day". If you spend every day complaining and moaning about the work you're doing—that's your culture. That is your contribution to the culture. But you can easily change that. Keep listening as Emad shares some other traits and processes he believes are key to your success.
Technology leadership development begins with some specific traits. Find out what they are from special guest Emad Georgy. #Leadership #leaders #technology #CrisisManagement #PersonalDevelopment
Click To Tweet
Technology leaders need a deliberate people strategy
Emad gets frustrated when leaders claim that they're "all about their people", but when it comes down to it they focus less than 20% of their time on their team. He believes it is essential to apply a tangible growth path to your team. Where do you want to see the team go in a year? What will you do for the company in that time? What do you expect from each individual? Are you helping them determine their career path and managing their growth?
Anywhere Emad has migrated in his career, he embraces a people-first approach. He'll spend his first couple weeks—or month, if necessary—having one-on-ones with his team members. Getting to know your team speaks volumes about who you are as a leader. You need to take the time to show them that you actually care and hear their needs and concerns. Emad points out that the need to have your voice heard is a core human need—everyone wants to be understood.
Emad and I talk about improving customer focus and facilitating conversation between customers and team members. We also talk about being "Process Ninjas"—so keep listening for more great content.
Engineering leaders must be resilient in times of crisis
Emad points out that leaders NEED to step up their game in times like these. With the majority of teams working from home, it takes hard work to keep them engaged and dialed in. Leading remotely also exposes any gaps in leadership skills that you may need to develop. While you're all working from home, you need to continue to recognize your team for their accomplishments. They need to be reminded that they're still part of something greater.
Emad shares that managers need to constantly ask, what is the larger story for my team? The larger story of the company? Take this time to develop a vision for yourself and your team. How do you define your team and its culture? Nail these things down, communicate them clearly, and reinforce them. To hear more of Emad's technology leadership recommendations, listen to this engaging episode of Simple Leadership.
Engineering #leaders must be #resilient in times of crisis. Learn some strategies from Emad Georgy in this episode of Simple #Leadership. #Leadership #technology #CrisisManagement #PersonalDevelopment
Click To Tweet
Resources & People Mentioned
Connect with Emad Georgy
Connect With Christian McCarrick and SimpleLeadership
Subscribe to SIMPLELEADERHIP on
Apple Podcasts, Google Podcasts, Spotify, Player FM, TuneIn, iHeart Radio
Tweets
What is the concept of #leadership debt? Emad Georgy talks about it in this episode of Simple #Leadership. Don't miss it! #leaders #technology #CrisisManagement #PersonalDevelopment
Click To Tweet
Technology leaders need a deliberate people strategy. What does that mean? Listen to this episode of Simple #Leadership to find out! #Leadership #leaders #technology #CrisisManagement #PersonalDevelopment
Click To Tweet
Read Full Transcript
Christian McCarrick
This is simple leadership. Welcome. Thank you to our sponsor, Auth0 for helping make the internet a safer place by offering identity as a service and supporting this podcast.
We're here to learn from New and seasoned technology leaders who all share a passion for improving the craft of technology management. Let's take a deep dive into management and leadership challenges and best practices specific to Software Engineering and Technology teams. Do you want more engineering management leadership tactics and information? Subscribe at simple leadership.io to receive the latest updates from this podcast. Hi, I'm your host Cristian McCarrick. This is the simple leadership podcast. Welcome back. Today's guest is Emad Georgy. Emad is the founder and CTO of Georgey Technology Leadership. He's an expert in execution of technology product development, digital transformation and leadership development for all levels of IT staff from coders to CTOs. His hybrid approach to technology management—focusing on both the practical and cultural elements of leadership—makes Emad a trusted and valued partner helping with domestic startups and global enterprises scale and grow. He is proficient in talent assessment, tangible leadership and organizational development, as well as data engineering and analytics pipelines, modernizing legacy applications, re-architecture, cloud migrations, DevOps and API integrations. Named a Computer World Premiere 100 IT leader, Emad is developing tomorrow's industry leaders. On today's show, we talked about leadership debt and the steps you can take to grow and mature as a technology leader. We also discuss leading in times of crisis. Good morning, Emad. Welcome to the show.
Emad Georgy
Good morning. How you doing?
Christian McCarrick
I'm doing well—as well as can be in some of the times that we're facing right now. How's everything going with you?
Emad Georgy
Yeah, these are very fluid times to say the least. But keeping it in perspective. Doing okay.
Christian McCarrick
Absolutely. And where are you calling in from today Emad?
Emad Georgy
I'm in Los Angeles, California.
Christian McCarrick
Okay. And I'm presuming from home since most people in California tend to be at home these days. Right.
Emad Georgy
We have been on lockdown for quite some time. Yes, even our beaches are closed. Everything's closed, even the walkways along the beach are close. So yes, everyone's wrong.
Christian McCarrick
Okay. All right. Now one of the things too, Emad, I that I asked all of my guests, if you could just spend a couple of minutes kind of giving you a little bit of your background, a little bit of the story of kind of how you got to be where you are today?
Emad Georgy
Yeah, I've been in technology now for over 25 years, I've been coding since I was a kid since I was 11 years old. You know, I'm the son of an immigrant family, we didn't have very much growing up and they bought me a beat-up old computer. And I came out of my room after a week of fiddling with it, coding my first game. And I've been working in technology ever since. So it's been a winding career path, as I'm sure many people have. But I've been coding and then became a CTO at a number of brands, as well as a few startups. So I've done the startup thing from zero to the big, huge bureaucratic companies and you know, how do you still figure out how to execute from there. So, now I run my own consulting firm. So I've been doing that for the last few years where I help clients grow and scale, both from a technical perspective, but also from a people perspective, like how do we move leaders in the right way. And that truly is my personal passion as well as growing better leaders. So I'm excited to be a part of this today.
Christian McCarrick
Excellent. And we share that passion, hence, this labor of love that I do this this podcast that I have. And, you know, you brought me back a little bit. I'm not gonna say my age, but, you know, I think the first computer game I ever programmed, I think (I didn't do it myself. I copied it out of a book. Right?) like, yeah, you know, character by character, talking about debugging that when you know, you make a step on, like, 1000 line thing.
Emad Georgy
It's all learning though, right? So…
Christian McCarrick
That's right. That's right. You know, another thing I kind of ask is…any mistakes that you have that stand out that you have made as a leader, that any parables or anything that my listeners might be able to take some advice from, and also to show that, you know, none of us is infallible. We all make mistakes, anything that stands out to you that you could share?
Emad Georgy
Here, I thought right up to this point that I was infallible, but now you gotta ask me this question. You know, geez, I'll tell you like I make mistakes every day. I mean, you're leading you're making mistakes every day. I don't know that I can think of a major mistake, but I'll tell you that a lot of the mistakes that I can think of right now, are associated with, believe it or not letting people go. Okay, as a first time manager, I think every person that I fired, I should have fired several months prior. And as harsh as that sounds, you got to think about as a leader, what impact that's having on the rest of your team. The jobs that are impacted by having a toxic personality in the team in the mix. Of course, I believe in giving people every chance possible to … and work as hard as possible and coach them through that. But at the end of the day, you got to make that decision. You know, accountability is a morale booster. And I learned also at the same time as you might be doing that person a service. You know, maybe that's the wake up call that they actually need in their career. So If I think of mistakes, it really has to do with, you know, executing on those decisions sooner than later, rather than experiencing the impact that it had on the team. While I was trying to, you know, I don't know, satisfy everybody, or people please or toe the line or whatever it might be.
Christian McCarrick
That's right. And you do make a good point, because I think a lot of managers don't understand that, especially if you're managing other high performers on your team, that they are going to look to you as a manager to help with a situation and they're going to feel like they're, you know, not being able to perform like they do. They might have to be, you know, backfilling or whatnot. So I think as a manager, that's that's a very good point. And most of the times, I've found in my career, if you feel like you should do something, it's probably past the point of having to do it. And yes, I think you're absolutely right.
Emad Georgy
I think it's also a test of your values as a leader. Like your team looking to you and you're talking about all these values that you're supposed to espouse as a team, and now it comes time to put into action and you don't put into action. What kind of messages are sent to your high performers? Yep. So you know, everything's on the line. But that's definitely a thing that I look back on.
Christian McCarrick
Excellent. And, you know, something else that I tried to get some advice for, for new managers this specific question, anything that you would coach or guide any new managers becoming from an IC to a manager for the first time that you would say, what's kind of one of the most important things that they should focus on or tip for them?
Emad Georgy
Yeah, I think that's a great question. I do end up working with a lot of new managers. And you know, it happens in all sorts of different ways, right? Sometimes you just promoted because you're the next guy up, or maybe you're the most competent voice in the room or the most technical voice in the room. And all of a sudden, you know, coding is so black and white. It either works or it doesn't. And now we're in the face of gray matter. Like, what is that? What are we doing with this? I think there's lots of advice, but I think the first thing I would say is really continue to be an engineer. I think not a lot of people say that. They say, "Oh, this is a different world. You gotta adopt different skills." and all that's true, but we really got to hang on to being engineers. And by that, I mean, you got to dig in. When there's an issue in the code, we dig in, we understand the root cause. We take the time to troubleshoot and debug, you got to do the same thing with people in leadership. Right? What happens is if you don't have that mentality, you get lost in the rush of meetings. And before you know it, everything is second hand knowledge. And my recommendation would be have the discipline to dig in, you know, trust but verify things from firsthand experience and continue to operate from that engineer mentality in that way.
Christian McCarrick
I like that someone else I was talking to recently had another analogy, which is very similar to that vein, is sort of like how people and engineers do stack tracing on code. Well, sometimes I do a stack trace on the problem, like you said, let's think about it that way. And using those analogies. Yeah, that's a great point. That's a great point. You know, I do want to focus some of the next part of the show here. Diving into a content concept called leadership debt that you have previously spoken about. Right? I think most of my listeners are familiar with tech debt. But can you define what you mean by leadership debt?
Emad Georgy
Yeah. So, you know, I sort of thought of this term, because as technologists, we're always talking about technical debt. Right. And we could go on and on about that, that that could be a whole nother show altogether. But it's gotten to the point where now it's like, it's actually conversation at the boardroom level where most of the people in the room don't even understand what that is. Yeah, it's in that same vein, we just talked about, about digging in, understanding root cause. So over the years, you know, as I dug into issues, problems, on the technical side, it all comes down to something in leadership, you know, "Oh, we had that one manager years ago that made a bunch of bad decisions. And this is why we have all this technical debt on the code", right? Or "he over-architected this", or "she did this" or whatever it is. Or it can be even well intentioned, it could be a manager just, they're doing the best with what they have and just didn't have experience for the role. Or it could be a CEO who doesn't understand the impact that his or her decisions are having on technology. So it felt like you know, it's like six degrees of separation. It's like everything led back to something in leadership, which came back to the passion that I have—the passion you have—around… Now, if we really want to solve the root cause of technical debt, let's start talking about leadership debt. You have, I think, a huge vacuum of really understanding what good leadership is in society in general, but it's…technology. That's where I sort of came up with the term is, "Hey, let's start talking about leadership debt. Let's start talking about the hidden cost the rising debt that accumulates over time, based on decisions". Like you don't rewrite an application, or you don't wake up one day and said, We got to rewrite our whole platform over you know, one decision, it's all little decisions that occur over sometimes a number of years, right? That's leading to death that's accumulating and so I think I think it's our responsibility as technologists to bring that to the surface, make it transparent, hold those decisions up and go, "Are we making decisions that enable the durability of the company and/or architecture?".
Christian McCarrick
Sure. And, you know, the news and over the last couple of years to I think it's really played out some of the downsides are the impact of having that leadership debt, whether it's some of the things that Uber or some of the other companies that I call, you know, behaving badly, and, and it just the downstream effects of that are tremendous.
Emad Georgy
And it's much like technical debt, Christian, where it's like, you know, when you start to see the effects of it, it's too late. It's like mold in your house. When you start to see mold, it's over, you got a real project on your hands. So, you know, it's very, very similar.
Christian McCarrick
Okay. And you have identified a number of traits, I think that you've called out that it's important for technical leaders to possess, right. And I want to kind of go over some of these in the show and, and maybe as we go over each of the ones if you could provide a little guidance and tips for my listners on 1) why they think that why you believe that's important and 2) how they could potentially, you know, work on or approve or get an opportunity to build upon some of those things. Right? And I think the first one you mentioned is, is the concept of ownership. So let's dive into that one a little bit. What does that mean? How do people get that experience?
Emad Georgy
Yeah. So excited to talk to you about this. Because one thing our industry lacks to the standard, like, what does it mean to be a good technology leader. So I've put these things in place. And this is sort of what I coach against, you know, that first values ownership, so it just starts there. And what I mean by that is really, the leader must have a collective sense of responsibility, not just about his or her actions, but about the actions of their team, and the organization. You know, how many teams are we a part of where there's finger pointing? Every team? Right? You know, we have this like, we bought into this myth that if I can only find the person to blame, we're done. But guess what? The problem is still there. Now you just pissed off more people. That's all. Right? So I think it starts with ownership. And by that I mean, you know, we need to engender a culture and also lead by example, as leaders to be problem solvers. Not problem reporters. So, I mean, I know how hard the job is, I mean, let's, let's talk about that. But what are we gonna do about it? Right, at the end of the day, we're engineers, that's what we do. We solve problems. You know, the analogy, I like to use them a big basketball fan is like, you don't get the luxury to be a fan in the stance and go, "I can't believe that shot Emad took", like, "What is he doing out there?". You know, at the end of the day, we're all on the court. So if we miss, then it's all on us to go and figure out what to do about it. And it really doesn't matter who is to blame. You know, what matters is how did we get here? And how are we going to solve that at the root cause level. So I think the first tip around ownership is role model it yourself. Something goes down, something goes wrong, you step up and take the ownership for it. Don't go find someone on your team to blame. Do that privately with that person, right? But role model that yourself, get out of the ambiguous, right, you know, start to change the ratio of time that the team is spending on complaining, and on bitching and moaning. And you know, I always say like, as an example, you know, people always talk about culture, right? What is your culture? Nobody knows what culture is, right? At the end of the day culture is just the stories that you tell every day. So if you spend all day bitching and moaning? Well, that's your culture. That's your contribution to your culture. So you want to shift the ratio of time that you're spending and your team is spending to problem solving. And your contribution to culture, right, growing people and coaching them and you know, contributing positively to the culture every single day. So, to me, those are some of the points of the prism of what it means to have ownership as a leader.
Christian McCarrick
And as you mentioned, taking being the role model because if you're doing that then that trickles down, people are going to see that that's what you do. They're going to take ownership because they see you taking ownership.
Emad Georgy
Absolutely. Yes, that's right. Yeah.
Christian McCarrick
And ownership too, I think is important. Because a lot of times, it's that wasted time between knowing something's wrong, either trying to cover it up or trying to find someone else to blame, versus solving the problem that could be days to weeks or months, even. Where if someone just said, "Hey, here's an issue", you know, "I messed up", or "I did this", it doesn't matter. Okay, let's focus on solving that. That company is probably going to be about high performing and quicker to market or whatever you gonna do then another one.
Emad Georgy
And guess what, you're gonna retain your people longer. That's right. As techies, we're part of companies to solve problems and engaging in challenges—not to complain every day. Right?
Christian McCarrick
That's right. And I think the next one touches upon something you mentioned just earlier in our conversation about an engineering mindset. And you talk about when going to become the manager, keep being an engineer. So what does that mean as it relates to being a first Manager, being director, being a VP, being a CTO. How does that engineering mindset help you as an engineering leader?
Emad Georgy
Yeah. So I think that there's I'm going to tell you the antithesis of that first, and then we'll get into it. The antithesis of it is what I call management by assumption. And this happens in startups and in huge companies as well. No, I'm a first time manager, I'm a CTO, I just don't have time. All this new responsibilities come on me. I'm getting pulled in 1000 different directions. And if my head a keyway, or at a DevOps tells me that this is a problem, I'm going to go with it. Right. And the issue there is that over time, all your knowledge starts to become secondhand. And it's management by assumption, or by PowerPoint. I used to say on some of my teams, I said, "I don't want any PowerPoint monkeys". I want engineers. Right? So don't Don't show me a slide. Go prove it. All right. So I think the discipline that's needed here is we don't stop ever being engineers. That's the principle as leaders. In fact, it's more so needed, because we have leaders that maybe are not technical come from a business background that we're working with, that are plagued by the same thing. Management by some. Yeah. Right. But we bring a unique perspective to the table. Because we have been engineers, we know how to dig into root causes we have been doing that for years, right? Right. So we bring a gift to that leadership table. And we've got to use it, not give it up. And so we got to build some systems to trust but verify. I'll give you one example. I was CTO at a large enterprise brand. I had close to 1000 people under me when I started, I had these direct reports that were VPs and directors and they all have their PowerPoints ready to go, you know, and I, as the CTO started to dig into people's code. Just every now and then. It didn't take all my day. Everyone under me was saying they didn't have time. I just did a couple trust but verify things. And so we can start to see like, when your boss, your CTO does that you have no excuse? Right? You've got to dig in. And by the way, it shows people that you care. So there's that as well. And you've got to develop some mechanisms to help you with that. Because it's not a scalable thing from a time perspective. So, metrics I think, play a big role. You know, I always say metrics are my love language. Like, okay, so what metrics are at least showing me the reality of what's going on? I use them as a guideline, how do I operationalize them? How do I use them in my one on ones with my team? Hey, guys, this seems to be below average today. What's going on? Let's talk through that. It helps cut through the opinions. Last thing I'll say real quick is one of the principles I have is when it's just the tech team in the room. No opinions are allowed. And what I mean by that is, if you have something to bring to the table, you better have proven it somehow. Did you try it out? We're not here to debate articles and things that you read. That's conversation for you know, at lunch or after work or whatever it might be. Bring new ideas to the table, but you better know. Or if you come table and say, "You know what, I found the root cause. it was a QA issue". You better be able to prove it to me on the screen right then and there. Where did you find that? Can you show it? Can you prove it? So that's the standard, we got to hold each other on. And as a leader, you hold yourself to that same standard. So when you present to the team, you show them your work, you show them hey, I'm not afraid to show you that I dug into this.
Christian McCarrick
A theme I keep hearing too is about that. You know, lead by example. And role model the behaviors you want your teams to actually exhibit as well.
Emad Georgy
Yes. I always say I never expect from my team something that I would not do.
Christian McCarrick
Yeah. Great principle. Yeah. As we move on, maybe from the engineering side, to kind of the next point you make is around having a deliberate people strategy. Now I think some people like Well, of course, I'm a manager, but but you've specifically put the word there deliberate. Yeah, right. And So let's dive into that a little bit.
Emad Georgy
Yeah, nobody's career or leadership growth by accident. You know, everyone says "People are my priority. People are my priority.". I had a mentor many years ago, my first management job. And I said the same thing. I'm like, "Of course, I'm a people leader". I'm the people guy. Look at me", you know. And he had me do an exercise where I took inventory of my time, just for a week, right. And I found that I was spending less than 20% of my time on people. So what's in your mind sometimes is not what's actually happening. I think that's what I mean about deliberate is, we need to apply a very tangible growth path to our team. What do you see your team being in the year? What types of things do you are you gonna do for the company and for the architectur? By individual, what do you expect out of each individual? Do you have a career path that you're managing against it? Do you do your one on ones and then check in on that career path every once a month? Right? It's accountability on those teams. Accountability, I believe is a huge morale booster, right. So I think the biggest metric of success for me as a leader is, am I growing? The leaders around me? Have they grown since I've known them? So, you know, by deliberate, that's what I mean, it's not checking the boxes of, let's just do what HR is asking us to do. Right? But how are we advancing people, both from a technical perspective, but also from their EQ as well.
Christian McCarrick
Mm hmm. And you mentioned before previously, that these things not only help to build high performing teams, but they help with your retention. Because if your directs and the rest of the company sees the effort you're putting towards them and that you care, like you give a shit and you want them to succeed, that engenders loyalty, and, you know, better productivity and increased morale and all those other things.
Emad Georgy
That's right. That's right. And it builds trust, you know, I mean, yeah, you got to do the work to build trust. One leader I was coaching a while back who talked about his team in the third person. So he wasn't part of the team. And I was like, Well, wait a minute. Wait, no, no, no, "You are part of them. You are part of the issue". So, you've got to start there. And like you said earlier, like, if you can role model it, that's where it starts. I'll give you one more example. You know…every one of my engagements and before I started my consulting practice when I was a CTO, no matter how big the job was, my first two weeks, my first month, were primarily focused on having a one-on-one with every single person on my team. I cannot tell you how much people appreciate that. I mean, to me, when I first started doing it, it was like, "Oh, I spent 15 minutes with you", but people want their voice to be heard. They want to know that they're working on relevant things, and just the gesture of taking the time shows deliberation. Right. And that just spoke volumes. I mean, it kind of surprised me when I first started doing it, how much it meant to people that that's how I started, you know, every project,
Christian McCarrick
You know, a little anecdote: I was interviewing a while back for a leadership job and to be unnamed company, kind of a larger company. And I remember during the interview process I was interviewing well, my team, my potential future team was interviewing me. But when you talk about, you know, starved for attention, I think it was basically time for those people (who I don't think had a manager for months at that point or had a manager that wasn't talking to them). It was like a therapy session. It's like, "Wow, this team, this team needs some help", because no one had been talking to them. And I was the first person that listened, as you mentioned, in months, and it just was such a good experience for them. I didn't take that job. But, still, it was very interesting anecdotally to be like, "Wow, there's a problem here".
Emad Georgy
Yeah. I mean, I think it's a core human need, right to have your voice to be heard and to be seen and to be understood. So yeah, I'm not surprised to hear that.
Christian McCarrick
Now, your next point that you make, and I really like this one—It's embrace problems. I could go on to this one a little bit for a while. But tell me a little bit about what you specifically mean by embrace problems here as a tech leader as a CTO?
Emad Georgy
Yeah, I think sometimes we get wrapped up and "Oh my god, all these problems" like s%*t, like you know, go into…today and "Here we go again". And guess what? That's why you're there.
Christian McCarrick
That's your job.
Emad Georgy
Like, what is it that you want? Like, if there were no problems, you wouldn't have a job, you wouldn't have a job. Period. Right? Especially as engineers. So, you know, the perspective I take is, that's part of our core purpose. Like, let's embrace it. Let's face these problems as things that, you know, there are opportunities for us to grow to do something of impact to the company. I especially love problems that people have given up on like, "Oh, that's just the way it's always been". I'm like, "Okay, well, let's do something about that". Right. You have to have a hunger to understand root cause of problems. So it's not just solving the problem. So first, embrace it, right? Great. But then you have people who do embrace it, but then only solve the symptoms of a problem like just enough to get by. You've got to go deeper, especially as a leader, you got to understand the root cause because then when you solve it, the root cause you're actually helping the company grow. And you're helping the technology grow from a durable standpoint. And so every problem you solve or your team solves, you're maturing the company and you're maturing the team. If you just solve symptoms, they're gonna come back and you're not really engineering it. So, yeah, I believe, like, you know, you got to eat problems for breakfast, like, I love them. Well, that's what I'm here for. I'm excited. Let's go do this.
Christian McCarrick
And you mentioned basketball before, too. It's sort of like, you know, if there's a player and they can't shoot free throws, well, they're not going to ignore that. They're gonna double down and try to fix that. Right. Yeah, I want to add one other thing to this too, because if I add a qualifier to it in—appraise problems as early as possible. Yeah. And it goes back to I think what you mentioned first, about letting people go, potentially waiting too long. I think the longer you wait to embrace a problem, actually, the harder the unnecessarily harder it's going to be to solve.
Emad Georgy
Oh, yeah. And I've seen people also just with harder technical problems, you know, look at the end of the sprint, or maybe the last sprint in a release. It's like "Well, no, no, let's let's go attack that right now. Because we might find that a whole host of other things that we've gotta focus on". So you're absolutely right there.
Christian McCarrick
Mm hmm. When your energy is actually at the highest to and you can de-risk that by doing other things like you mentioned. Yeah, absolutely. This next one, I think is super important. And I think sometimes tech leaders, well, maybe not so much tech leaders, but ICs, other people lose focus of the customer. And, you know, that's why we're in business, right. So a little bit, how can leaders really help to improve their customer focus? How can they help bring that to their teams? What are some tips that you recommend?
Emad Georgy
Yeah, this is a great one. I love this one. You know, everyone talks about customer focus but it's really hard to make it real on the tech team. So the number one thing is more of a philosophy, which is, you know, what does it really mean to be agile? like I always say, everyone says they're agile, but it's bullshit. At the end of the day, one of the core principles of "Agile" is I deliver customer value every day. Yeah. Right. So, you know, you walk away from your day and you look back and go, "Well, I attended 80 meetings, not sure what I did". So you really, as a leader have got to drive that. And I think there's really pragmatic ways to do it. And one is that you got to increase the number of touchpoints and feedback loops to your customer, between your customers and your team. It could be your direct customer, it could be people who are on the front lines with customers, and building those relationships. Oftentimes, those relationships are contentious between those folks in the technology team. It's when you have several layers in between. So cut through that, you know, I believe in bringing customers in as much as is appropriate, of course, bring the customer into your next roadmap planning session, have them talk about the impact of the last release that it had on their business, right? Bridge that gap and start talking through that like some of the roadmap planning sessions. I do with teams. Where, instead of the product owner talking about what the priorities are bringing in a stakeholder, or even the customer to talk about, why is this important? All of a sudden, when developers are breaking down tasks, they're not fulfilling the task for the story. They're thinking about the spirit behind it. They're thinking about the use case. They're thinking about the business case that they heard they think about their contributions to the company's growth. So that's, that's definitely one way. I also, there's all sorts of touch points you can develop, like, I've done like user groups between QA and customers, help us help us test, right? So you're teaching QA how customers use the product. So again, that goes back to QA's job is not to just test the story it's to test the customer experience. Right. So there's, I think, a number of ways where you can bring that in. Also, I think, consistently streaming in good news about the impact that releases are having out in the market, back to your team directly as directly as possible is very important.
Christian McCarrick
You know, on the opposite side of good news, as a leader, you're going to have to do customer apology calls at times if you have a bug, an outage, an issue, and some of those can be pretty unpleasant. And I recently recorded one, and had my team watch it afterwards. You know, I needed to have them have that empathy of not that I wanted to share the pain, like my pain, but I wanted to share with how something we did impacted the customer and how it affected them in a negative way. And I think it was really it was important to help the empathy cycle between engineers, which sometimes can get distant to the actual users. And that's again, that's why we're in business or providing value to them.
Emad Georgy
That's exactly, yeah, you just triggered like one of the principles that I have that I learned over time was: you always want your customer to react some way to your software. hate or love. Right? If they love it great. If they hate it, it means they want it to work. They care, you know, so I had been on a number of apology tours. I fully understand your pain. But the worst thing you can get from a customer is apathy. Yeah, that's what you don't want. So, you know, I used to, you know, when I first became a manager, I tried to avoid those apology calls, you know, not until I had the perfect solution, and I could report it. But actually, what I learned is they want to talk about it, and they want to know that you're on it, even to just recognize it and say, "Look, I don't, I don't have a solution right now. But I'm here. I'm not avoiding it. We're talking. You're important to me.". That means the world to them. That's all good stuff, ultimately, right? Yes, they care. And they want it to work. And that's a critical part of the business.
Christian McCarrick
Absolutely. And kind of moving on to the last point you have about great CTOs. You see a good trade of them is really being processed ninjas. Well, let's go into that a little bit.
Emad Georgy
Yes. Yeah. So I think the good technology leader beyond a lot of the values that we talked about, they also seek to understand how software has been built. What is the process that we're using? And it's not you know, even in this day and age, I still hear too many teams get into these philosophical debates about "Are we agile? Or waterfall? Or Scrum or fall? O are we con bond? Oh, you know, Scrum sucks Scrum doesn't suck". I mean, none of that matters. That's all bullshit for happy hour. You know, we're in a business that's making money and making an impact. So I think the leader, the technology leader needs to have a very pragmatic view of process. And one of the metrics that I use with teams is how often processes talk to them. That tells me how mature the process is.
Christian McCarrick
Or complained about.
Emad Georgy
Yeah, exactly. If I'm just talking about it, and there's still meetings about what's green and what's red and what's this, right. That's an immature process. Very mature process is lean. It supports velocity and quality and value. It's not talked about because it's like a utility like the light turns on. And that's that we don't talk about how the electrical current went from the light switch to the light bulb, and let's sit down and talk about like, what kind of voltage are we talking about? And like, nobody cares, once it works, it works. And that's it. That's what you want. You want your process to be a bit invisible. So when it's not, you got to stop. And you got to say, all right, what went wrong here? What do we do about it? That's what you want. So the way I assess a good technology leader in this respect is, are we getting away from all that philosophical bullshit. And are we getting down to the detail of how am I going to help my team make their job easier to improvement? label it, whatever you want.
Christian McCarrick
And be open to change. Right? And be open to be flexible with change.
Emad Georgy
yeah. And, you know, how do I increase more feedback loops? What are these metrics telling us? How do we get more efficient in this? Oh, this took us seven days. What would it take to get it three days? Right? Oh, our builds are taking you know, over an hour. Well, why is it Everybody living with that? Okay, techies, we have such a high toleration of pain. It's ridiculous. Right? Like, why are we accepting that? Let's actually get together and talk about what we can do about it and make people's lives easier. So, you know, those are my thoughts. It's more of a pragmatic view, I think and choose how to do it right and purely like there's no such thing.
Christian McCarrick
Oh, you just triggered an interesting other podcast episode topic. Why are techies gluttons for punishment and pain?
Emad Georgy
Oh, that is a good one. We could tell stories about that—let me tell you.
Christian McCarrick
It's true, why do we put up with that crap? Because we'd like to make nothing complain about that. That's another part of the personality. So I want to switch gears here for a minute after all those and those are pretty awesome. And I think for the listeners out there, probably summarize a number of those items for the show notes as well, SimpleLeadership.io, you can go look at those. And we'll talk we'll give some time Emad—we'll put all his contact information too and everything online, you can look at that. But what's going on today? I know that you have also spoken about the importance of resilience and engineering leaders. And with today's crisis and the anxiety and everything else going on. Do you think that's even, you know, more important in in sort of a crisis situation than we have today?
Emad Georgy
It's definitely more important. I think that, you know, when we're in the physical world, I mean, we're in the physical world, I guess, but we're online. But you know, when we're physically together, co located, ironically, it's easy to cover up some of your leadership gaps. Because, you know, we're all day meetings or this or that. But now when you're digital, I think as a leader, you have to step up your game a lot more. And that starts personally like having the discipline of how you start your morning, putting the energy and the thought behind, you know, because not everyone's designed to work from home. Right, well we're all required to now, but not once designed to do that. I mean, some people need to be around people need to be around the office. So as a leader, you're gonna have to do that much more to get that engagement going. And it's also starts to expose to the surface, you know, leadership gaps and skill sets right away. Process gaps, like we were talking about, like if we don't have good metrics, or we have a bureaucratic process, guess what, it's gonna get even worse digitally, like, show even more working from home. So there are things like that where personally as a leader, there is no more important time than now to really step up. And it's a really great opportunity to do that. Both getting your team together, but continuing down the path aggressively or out with your individuals on their current growth plans, continuing recognition and thank yous, you know, like, we're all focused on the task and let's keep business operating especially with a lot of businesses just trying to stay alive right now. Right? We got to get Finish Line, but you still have responsibility as a leader on recognition, and making sure that people are recognized and they feel that they're part of something greater. So yeah, I agree, I think never has there been more of a time where resiliency, and that kind of leadership is needed today on teams at all levels. Really, you can argue, especially at the middle management level, you know, if you're a manager, or a second time manager, whatever it might be, I actually have the most important role in the company right now,
Christian McCarrick
Because you're on the front lines. Yeah, exactly. Mm hmm. Any other tips you have for managers to help lead through crisis like this? You know, that if you were to come in and do an engagement company calls you and says, "Hey, what are some of the first things you might look at to help with their leaders to and even the middle management leaders to help get through this?"
Emad Georgy
Yeah, couple. You know, one is also a life principle of mine. I believe that today is part of a larger story. So as a manager, what is that larger story for your team? Like Where are we going? What is the larger story for the company, right? What's the context, because then if you have a good day, or you have a bad day, you know, it's part of a larger story. So let me tell you how it fits. And so I think the first thing is, you have to know what that is. So you know, take some time, take advantage of the fact that we are working remotely. And if you don't have a vision, develop, develop a vision for your team. What are we about what kind of team are we? Where are we going to be in a year? What do we tolerate? What do we not tolerate? Right? And then once you have that clearly communicate it, then reinforce it every time something happens. So every time something happens, I say "See guys, this is what we mean when we say we're a team, we're accountable. Like we're the most accountable team in this company. We're modeling accountability. You just did XYZ yesterday, and we stepped up we helped each other even though it wasn't your responsibility". So now you're reinforcing saying you're taking, you know, pragmatic stories or tackle stories in real life, translating them back to the vision and say, let me show you how this is becoming real. So I think this is a time where your folks, as a leader, they want to believe that they're part of something greater than just our communication medium, the virus. Let's go out of this situation, right. They want to believe that they're still part of something greater. We're not just trying to make it work over Zoom and that's that.
Christian McCarrick
Sure. Right. Yeah, no, definitely great tips. Definitely great tips for, for this, you know, just unparalleled time. We're going through right now. Yeah. Something I do ask all of my guests too is if you have any recommendations, or resources to help them through the journey of management and leadership, it could be something you've read recently or a book that you was like the foundation of kind of what you've built here, your management style on, you know, anything like that, that you can help my listeners out.
Emad Georgy
Well, I'm a voracious reader. So I can go on and on and on and on. But that two that I'm thinking of right now is what is a classic work, "Servant Leadership" by Robert Greenleaf, really great in terms of the principles that are there. I think it's a foundational book, and then one was written by a mentor of mine. ho I absolutely love. It's a book called "Integrity" by…cloud and defines integrity, not the way we would think about it, like ethical sort of behavior. No, it's your equity is the courage to meet the demands of reality. And it's all about what we're talking about here. So I highly recommend both books. I think I can go on and on. There's so many. Great,
Christian McCarrick
great, yeah, no, thanks for those. And for the listeners, like usual, they will be on the show notes. So you can find the links to those. And Emad, what is the best way right now for anyone to get in touch with you? Whether, you know, they want to follow up with something that we talked about in the show, or as a company they might want to have you come in? And kind of have you help them out through this time or something else?
Emad Georgy
Yeah, I appreciate that. The best way right now is to get a hold of me via LinkedIn. I'm very active on LinkedIn. And that's primarily how we interact and, you know, my passion is to help people grow and technology teams to grow so, you know, happy to help where I can, but that's where people can engage with me.
Christian McCarrick
Absolutely. Well, again, I appreciate you taking your time and your day to have this conversation. I greatly enjoyed it. It was great to meet you. And I enjoyed our conversation. I always, you know, it's feeling a little, this whole situation right now as it affects everyone, I think a little bit emotionally. And, and I think definitely even just having this conversation has made me feel a little bit better got me more engaged about the day. So I do appreciate you helping with that. And and I'm sure that's a good point for other people too. If you are a little isolated, reach out to someone else during this time. It can certainly help.
Emad Georgy
Yeah, and likewise, Christian, really appreciate it. And thank you for the opportunity. I really appreciate it as well.
Christian McCarrick
All right, well, be safe, and have a great day. All right, thanks.
Thank you for listening to this episode of the simple leadership podcast hosted by me Christian McKarrick. If you've enjoyed the show, please subscribe and don't forget to leave a review on iTunes. Full show notes and additional information can be found on SimpleLeadership.io. If you know someone who would be a great guest for the show, or you want to share your own experiences, please drop me a line. We'll see you back next week for more technology leadership tips and advice as I interview more top software engineering leaders.
Transcribed by https://otter.ai